Montreal, November 1, 2017. Midland Exploration Inc. ("Midland") (TSX-V: MD) and Altius Minerals Corporation ("Altius") are pleased to announce the results of a detailed VTEM® electromagnetic survey and to report preliminary field observations from their Moria (nickel) and Shire (zinc) projects in the James Bay area. On the Moria project, electromagnetic (EM) anomalies suggestive of Ni-Cu-Co massive sulphides have been identified in several areas, notably in the northeast extension of the Gimli/Gloin showings, in an outcrop-free zone. On the Shire project, the EM survey shows that the O'Connor Zn-Co showing is located on a 15-kilometre-long chain of EM anomalies. Pyrrhotite-pyrite massive sulphides and quartz-sulphide exhalites have been observed at several locations along this regional EM conductor. These results suggest the presence of a new massive sulphide belt on the Shire project.
The Moria Project nickel discovery was first released on August 17, 2017, and consisted of a grab sample of a weakly mineralized meta-pyroxenite that assayed 1.07% Ni, 0.24% Cu and 0.09% Co (Gimli showing). Manual stripping and additional grab samples taken later in August confirmed the initial discovery, with the following grades from the discovery outcrop: 1.13% Ni, 0.11% Cu, 0.07% Co; 0.83% Ni, 0.17% Cu, 0.07% Co; 0.87% Ni, 0.18% Cu, 0.07% Co (Note that grades obtained in grab samples may not be representative of mineralized zones). Channel samples were taken on Gimli in October following additional hand stripping; results are pending. The Gloin showing, located 100 meters east of Gimli, was also confirmed by additional sampling later in August, with 0.78% Ni in grab sample. The normalized 100% sulphide grades calculated on the Moria showings are very high, ranging from 9.2% Ni to 16.0% Ni, and from 0.59% Cu to 2.36% Cu (see details in the table at the end of this release). These numbers indicate that Ni-Cu massive sulphide mineralization on Moria could be high grade, and that the potential also exists for low grade/high tonnage.
The electromagnetic (EM) survey conducted on the Mora project indicates that the Gimli and Gloin showings are located on a NE-SW magnetic anomaly that is approximately 3.5 km long and coincides with the magnetic meta-pyroxenite host to the mineralization. A group of five EM anomalies that could indicate Ni-Cu massive sulphides are located on the same magnetic anomaly, between 400 and 800 meters northeast of Gimli/Gloin, in an area without outcrops. Other combined EM and magnetic anomalies that are also covered by Quaternary deposits occur in areas where weakly mineralized meta-pyroxenites have been mapped. These EM anomalies are excellent drilling targets. Results of additional outcrop and boulder sampling conducted in October on Moria are pending.
The Shire zinc project began following the discovery of an exhalative zinc-cobalt horizon in the summer of 2017, in a little-known area located approximately 80 kilometers east of Nemaska, Quebec. A quartz-sphalerite exhalite assayed up to 7.53% Zn in a grab sample, while a pyrite-pyrrhotite-sphalerite massive sulphide grab sample assayed 2.79% Zn; pyritic massive sulphides also assayed up to 0.09% Co in grab samples (O'Connor Showing; August 10 release). The mineralization is interpreted to represent the distal portion of a volcanogenic massive sulphide (VMS) deposit.
The EM survey conducted on Shire in October shows that the O'Connor showing is located on a regional EM conductor that is at least 15 km long and is open to the east. Follow-up of a few EM anomalies in October identified pyrite-pyrrhotite massive sulphides and/or quartz-pyrite-pyrrhotite exhalites at other locations along this regional EM conductor, located 2.5 and 4.5 kilometers east of the O'Connor showing. The massive sulfides and exhalites were covered by Quaternary deposits and were found by manual stripping of metal detector anomalies. Mechanical stripping or drilling will be required to fully assess them. The results of the sampling are pending. Mapping of the metavolcanic rocks surrounding the sulphide-rich exhalative horizon indicates that it is located near the contact between felsic and mafic volcanics, an environment typical of major VMS deposits. These results suggest the presence of a major massive sulphide belt on the Shire project. Furthermore, the greenstone belt hosting the mineralization was not previously known and therefore never explored.
Midland and Altius are very pleased with the results of the fall exploration phase on Moria and Shire. Both projects began in July 2017 as grassroots-level reconnaissance targets and quickly evolved within a few months into high-quality targets ready for drilling or stripping. The next stages of exploration on the projects will be evaluated by Altius and Midland in the coming weeks.
Figures showing the VTEM electromagnetic surveys and field observations can be viewed at the following link: Click here
Metal grades for Moria Ni showings and grades recalculated to 100% sulphides*.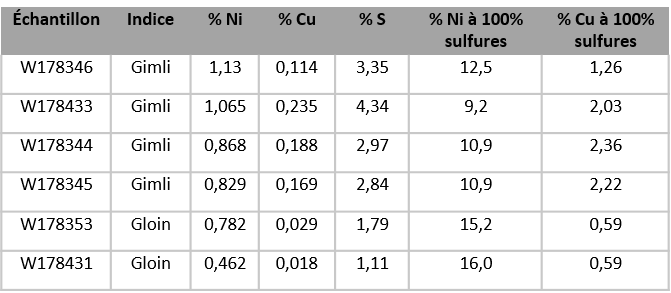 *The recalculated 100% sulphide grades were calculated according to Barnes and Lightfoot (2005), using the following formula Concentration (100% sulfides of a chalcophile element) = Concentration (total rock of chalcophile element) * 100 / (2.527 * S% + 0.3408 * Cu% + 0.4715 * Ni%)
Quality control
Rock samples from the project are analyzed by standard fire assay on 30 gram fractions with atomic absorption finish or gravimetric finish at ALS laboratories in Val-d'Or, Quebec or Sudbury, Ontario. All samples were also analyzed for several elements by a four acid dissolution ICP-AES method. The design of the exploration program and the interpretation of the results is performed by qualified personnel using a quality assurance/quality control program that conforms to industry best practices, including the use of standards and blanks for every 20 samples.
About Altius
Altius directly or indirectly holds royalties and various streams that generate income from 15 operating mines. They are located in Canada and Brazil and produce copper, zinc, nickel, cobalt, iron, potash and thermal and metallurgical coal. The portfolio also includes numerous pre-development royalties covering a broad spectrum of mineral substances and jurisdictions. In addition, Altius has an extensive portfolio of exploration stage projects that have been generated to make agreements with industry partners that result in new royalties and minority interests.
About Midland
Midland is counting on Quebec's excellent mineral potential to discover new world-class deposits of gold, platinum group elements, base metals and rare earth elements. Midland is proud to count on reputable partners such as Altius Resources Inc, Agnico Eagle Mines Ltd, Teck Resources Limited, IAMGOLD Corporation, Osisko Mining Inc, SOQUEM INC, Altius Minerals Corporation, Japan Oil, Gas and Metals National Corporation, NioBay Metals Inc. and Abcourt Mines Inc. Midland prefers to work in partnership and intends to quickly conclude agreements in this regard with respect to its newly acquired properties. Management is currently evaluating other opportunities and projects to enhance the Company's portfolio and create added value for shareholders.
This press release was prepared by Sylvain Trépanier, P.Geo., Vice President Exploration James Bay and Northern Quebec at Midland, a "qualified person" as defined by NI 43-101. For more information, please consult the Company's website or contact
Gino Roger, President and Chief Executive Officer
Tel. : 450 420-5977 : 450 420-5977
Fax : 450 420-5978 : 450 420-5978
E-mail : info@midlandexploration.com
Website: www.explorationmidland.com
Neither TSX Venture Exchange nor its Regulation Services Provider (as that term is defined in the policies of the TSX Venture Exchange) accepts responsibility for the adequacy or accuracy of this release.
This press release may contain forward-looking statements that are subject to known and unknown risks and uncertainties that could cause actual results to vary materially from targeted results. Such risks and uncertainties include those described in Midland's periodic reports including the annual report or in the filings made by Midland from time to time with securities regulatory authorities. –
Documents